Testimonials
I am extremely pleased with the service I received from ASAP Locksmith today, Jim your technician, was on time and very professional, and he charged what you quoted. - Jill, Hollywood, FL
It is breath of fresh air to count with ASAP Locksmith every time we need service in any of our stores, I am glad I found you guys. - Felicia, CVS Stores
Thanks for opening the old safe I inherited from my family, I searched for weeks for a reliable locksmith and you knew what you were doing from the get go. - Carlos, Wilton Manors
Medeco High Security Locks Q&A:
Why should I install Medeco High Security Locks?
There is no doubt that Medeco is ideal! critical guardian of your security is the lock on your door! However, all locks are not created equal! The much sought after, American manufactured, Medeco High Security Locks are superb. They function with a mechanism that makes them as close to pick-proof and bump-proof as possible. Numerous independent assessments confirm, that Medeco High Security Locks are high-quality and skillfully designed to thwart attacks and unauthorized duplication of your keys. See the June 2011 issue of Consumer Reports Magazine to see just how much even they like Medeco High Security Locks! After picking it, bumping it, forcing it and even drilling it, it still would not open! If you use a conventional key lock and are seriously interested in the security of your home or business, then Medeco High Security Locks are the trusted solution. We can professionally guide you, accordingly.
What's the difference between a Standard Lock and a High security Lock?
6 Ways to Break into a Door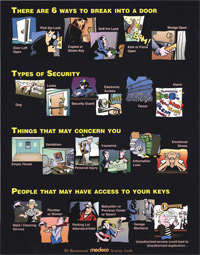 Here's why Medeco is the ultimate In High Security: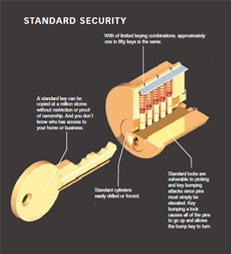 Ryan C. Spain, Medeco's founder, revolutionized the lock industry when he invented what would become the Medeco Key. His innovation was to develop a machine able to imprint angled cuts on the key surface (see picture below), having two devastating effects on break-in attempts:
The angled key cuts neutralize bumping attacks by dispersing kinetic force.
The angled key cuts enable the creation of millions of key cut variations, or duplication possibilities.

Additionally, the patented key duplication machines were distributed to a controlled network of Medeco Authorized Dealers, establishing a restricted procedure in which only the owner - or authorized individual- can order copies of the keys.
Security Tip: Did you know that a standard key has only 50 possible combinations? That means that if you drive around a neighborhood opening doors with standard locks, you will seamlessly break into a house 1 out of 50 times, just by using a standard key!
Apart from using this breakthrough key-cutting technology, Medeco also makes sure that its locks are built with the highest security standards and materials available. Medeco Locks are made of hardened stainless steel with a unique anti-burglary construction which is put to the test on a continuous basis by Underwriters Laboratory (U.L.), the most important independent testing agency in the world, for drilling, picking, bumping, and torching attacks.
The following is a table depicting the basic differences between a High Security Lock and a Standard Lock:
| | | |
| --- | --- | --- |
| | Medeco Lock | Standard Lock |
| Key Duplication | Restricted | Not Restricted |
| Key Cut Variations | Millions | 50 |
| U.L. Tested | Yes (UL 437 Listing) | No |
| Vulnerable to Picking | No | Yes |
| Vulnerable to Key Bumping | No | Yes |
| Elevating and Rotating Pins | Yes | No |
| Third Locking Element | Yes | No |
| Sold at… | Medeco Dealers Only | Generic Stores |
What other security solutions does Medeco offer?
Medeco has an all around security line for residential, commercial, and institutional security applications, from decorative door hardware to access control systems. Please call us at 954-457-2727 to receive more information; or to request a call back from an A.S.A.P. Locksmith security adviser.
What is a Medeco Security Center?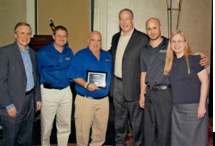 Medeco Security Centers are a select group of top Medeco dealers located throughout the United States, chosen for their professional business practices and desire to play a principle role in educating consumers about security risks and solutions. At a Medeco Security Center, you will find knowledgeable, factory trained personnel who will provide sound security advise, first-class service and genuine expertise. All of our employees go through extensive security training, each becoming an expert on high security and the Medeco's product line. ASAP Locksmith™ is proud to be a Medeco Locksmith and has earned impressive awards directly from the manufacturer, for several consecutive years.
Why is A.S.A.P. Locksmith the best choice to get Medeco security in Broward, Miami-Dade, or Palm Beach Counties?
ASAP Locksmith is one of the few Medeco Security Centers in South Florida, an accolade only awarded to companies with enough experience and technical skills and with a proven track record of quality of service. We offer the entire range of Medeco products and services to Hospitals, Restaurant Chains, and government facilities, as well as numerous families all over South Florida. We have done so since 1993. We cover all of the major cities-- Miami, Fort Lauderdale, Hollywood FL, Pompano Beach, Davie FL, Hallandale, Aventura FL, Miami Beach, Hialeah, Sunrise, Plantation, Tamarac, and more . Our 24 Hr. emergency dispatch center serves all locations in Broward, Miami Dade or Palm Beach. All of our work is guaranteed! Stop searching now! Call A.S.A.P. LOCKSMITH at 954-457-2727 or 305-932-4405.
Help spread the word about ASAP Locksmith: